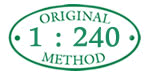 1 in 240 dilution
Ainsworths makes Bach Flower essences in accordance with the writings of Dr. med. Edward Bach with a dilution of 1 to 240. This means that 1 drop of mother tincture is diluted to 240 drops of brandy. This features a powerful bach flowers. NOTE : 1 in 240 is different from 1 in 240%!
Authentic
Ainsworths produces in the same way that Dr. Edward Bach made his Bach essences. The production process contains a lot of manual work, whereby attention to the Bach flowers is essential. Ainsworths makes Original Bach Flower Essences exactly as and in the spirit of Dr. Edward Bach and Nora Weeks.
Nature
Ainsworths Bach Flower essences are made from plants, shrubs and trees that grow in areas where no people come.